Posted on August 03, 2017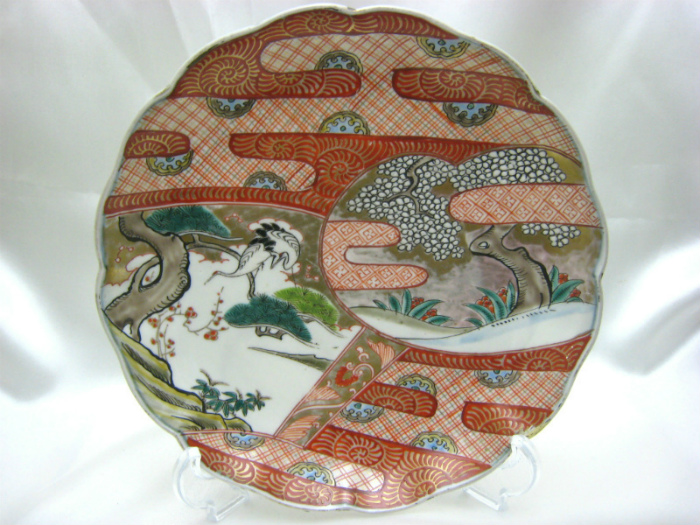 Old Imari is quite probably the most famous Japanese ceramic product in the world. China, the dominant exporter of porcelain, fell into internal disturbances in 1644 and it became hard to obtain Chinese products. The west requested Japan to step up production of porcelain instead of China because Europe did not have the techniques to make porcelain at that time. Thus substantial amounts of Japanese porcelain ware were made in the town of Arita and exported to Europe from the port of Imari by the Vereenigde Oostindische Compagnie (VOC) from the late 17th to early 18th century in order to meet demand in the west. Thus Arita porcelain is also often known as Imari. Arita ware was the first porcelain product in Japanese history, and strongly influenced European ceramics.
Sakaida Kakiemon
Kakiemon ware is a kind of Arita ware. Sakaida Kakiemon (1596-1666) was the founder of the famous Kakiemon kiln. His work featured very well-shaped porcelain with colorful painting, a well-balanced margin in a beautiful ivory white glaze, and Kuchisabi, a printed iron glaze on the top of the rim. His porcelain strongly influenced European ceramic companies such as Meissen, Herend and Royal Crown Derby among the others. In particular their plates and cups & saucers were influenced by Japanese porcelain at the time. Today, the 14th successor to the Sakaida Kakiemon kiln continues the excellent work.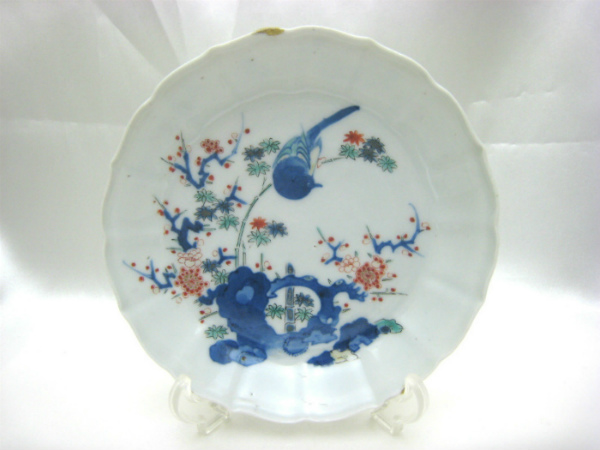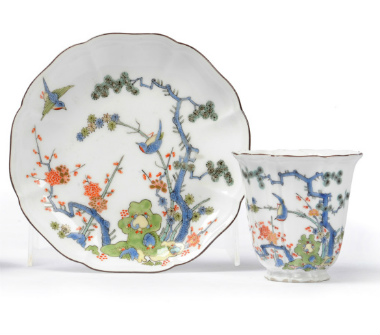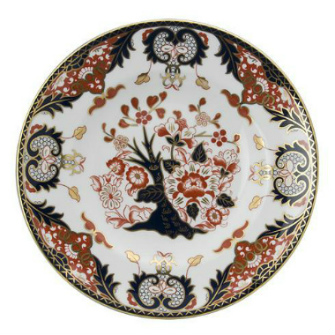 Meissen Kakiemon cup & saucer and Royal Crown Derby Old Imari plate
Age of Old Imari
It is very difficult to distinguish the age of porcelain products. Experts and amateurs alike use knowledge about the historical features of Imari ware in different eras to identify genuine antiques and avoid fakes.
Kakiemon White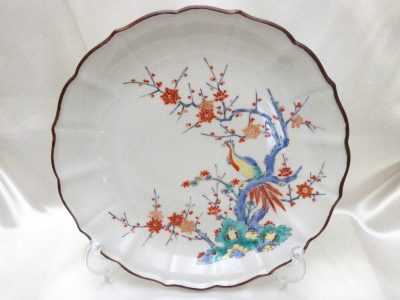 Sakaida kakiemon succeeded in making an original white glaze called Nigoshide c. 1650-1670. However his earlier white glaze was not as skilled. He was unable to use cobalt blue under the white glaze because the blue changed to almost black after firing due to the iron content of the glaze being oxidized. He therefore had to paint blue parts of the picture over the white glaze. Thus old Imari with beautiful cobalt blue painting under an ivory white glaze is not eary Imari.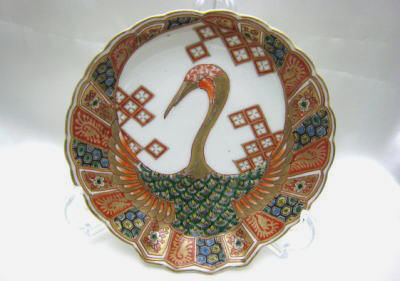 Kinran-de
From 1690, the Kinrande style emerged. It became popular and soon took the place of Kakiemon style. Kinrade ware was exported to Europe by the Vereenigde Oostindische Compagnie (VOC). That had cobalt blue paint under the white glaze and colorful paint including gold over the glaze. Around the time a new color, yellowish green was developed. Kinrande also influenced European ceramics. In the present day, old Imari usually indicates Kinrande ware in Europe. It is the origin of the famous Royal Crown Derby old Imari series.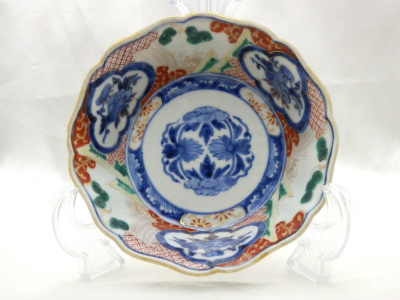 Some-Nishiki
This is mixed style between Some-tsuke style and Nishiki-de style. Some-tsuke style had just cobalt blue paint under the white glaze. Nisiki-de style had red, green, yellow, purple, blue paint over the white glaze.
Some-Nishiki had cobalt blue paint under the white glaze and colorful paint over the glaze. It is looks like Kinran-de however it is less flashy than Kinran-de due to hardly gold glaze. Some time they were called Jo-de (excellent porcelain) as tributes for the ruler.
Plate Size
Saya (sagger) is a box made of clay to protect the porcelain in the kiln. Using this tool, a potter could make a well shaped product. Saya were around 30cm across at most. Therefore many early well-shaped Imari products were about 20cm across. The potter could not use the Saya when they made a bigger plate. Therefore perfectly shaped imari over 30cm are not so old.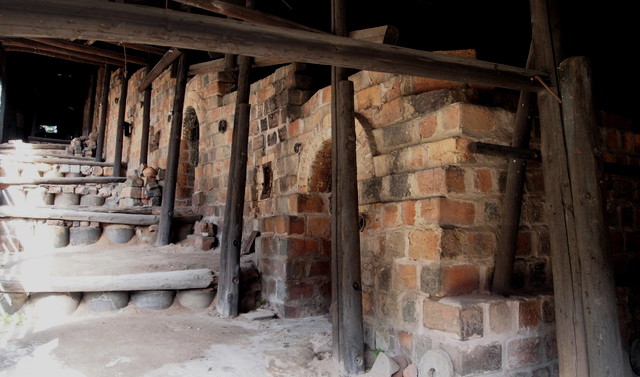 Arabesque Pattern
Many Imari ware have arabesque designs. Early arabesques were drawn delicately. However overtime, the style became rougher. In the mid Edo era, the pattern resembled octopus legs It is called Tako-Karakusa . In the late Edo era, the pattern, called Shida-Karakusa, became almost like ferns.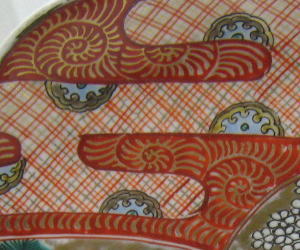 Tako-Krasakusa and Shida Karakusa
Signature - Back Sign
Nomally reproductions have a signature like that on the picture on the top in order to distinguish antiques from reproductions. The other pictures are the signatures of antiques. They are many types of signatures, these are just five examples.

The mark is called 'Uzufuku' means fortune. Usually, it is in Kakiemon ware in antique.

It is Chinese name of an era. It is most populer antique imari ware's back sign. Many Japanese admired Chaina at the time.

Usually having this mark, it is product in the Meiji period (1868-1912).

Fuki-Choshun means happy. Fuki indicates peony and Choshun indicates rose.

This is mark of the Vereenigde Oostindische Compagnie. Imari for export have this mark usually.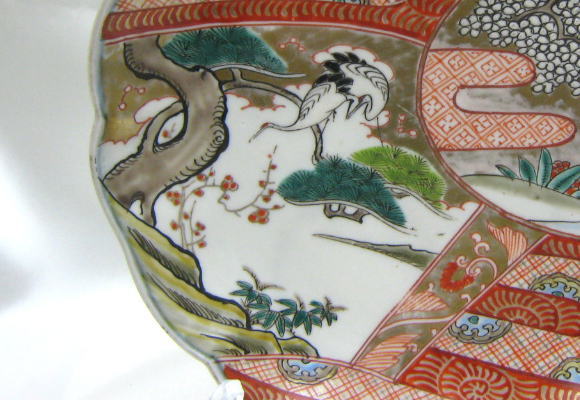 Olive Green
In the late edo period, enamel coating technique was imported from China. Painting , gradation and overglaze technique in particular, became more skilled. If you see 'Uguisu-iro (olive green)', lower left side of the picture, on your imari plate, it was made after late 18c because no one was able to make 'uguisu' color painting without enamel coating tequnique at that time.